Fash Boulevard Interview
8:00:00 AM
Happy Thursday everyone! By now I am sure you have heard of a blog named
Fash Boulevard
! Ana James, the
brains
and
beauty
behind this wonderful fashion blog has taken time to answer a few questions for me to share with all of you! Seriously, she is the SWEETEST, I am telling you right now, once you are done reading this post, go check out her blog!
1. If you could pick one fashion icon, living or not, to spend an hour picking their brain, who would it be & why?
I would have to say Marilyn Monroe because she's such a classic beauty and one of my favorite icons. I'd love to interview her and then raid her closet! :)

2. What would you consider your top three favorite outfits you have blogged about?
My style is girlie, colorful and classic and I feel that these outfits best portrait these qualities.
3. Since Fall is here what would you say are "must have" item of clothing or accessory?
Bright coats are one of my favorite fall must-haves. I already have a cobalt blue coat and a bright green one as well that I'm completely obsessed with. They offer a refreshing break from the usual black or grey coat.
Outfit details found
HERE
4. Where does your inspiration for your fashion choices come from?
I'm inspired by shopping, window displays, and runway shows. I love seeing what's in the pipeline and what's currently hitting the stores.

5. In your down time, what are some of your favorite things to do?
I love to travel. My family lives on the east coast so I go home to visit them whenever I have a free second! :) And since I work from home, getting away is really the only way to enjoy my down time.
Isn't she awesome?! I think so! I have had such a great time chatting back and forth with her & will continually check her blog for outfit inspiration & you should too!!!
Thank you Ana for taking time to do this, I really appreciate it love :)
* * * * * * * * * * * * * * * * * * * *


Okay so one more thing before you go! I received some EXCITING news yesterday... A little bit back I entered my
ETSY shop
Craft-N-Dash
in a Christmas Shop Contest! They had 23 entries and my shop made it to the top 10!! Let's just say, I'm super excited about this!
Now here is where you all come in, my lovely readers...
If you could PLEASE take a second, click on the pretty button below, & VOTE FOR ME!!!!!!!!
In order to move on further in the competition
I need your votes
... I would really appreciate it!!!!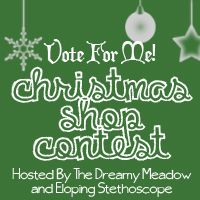 THANK YOU in advance!!! :)